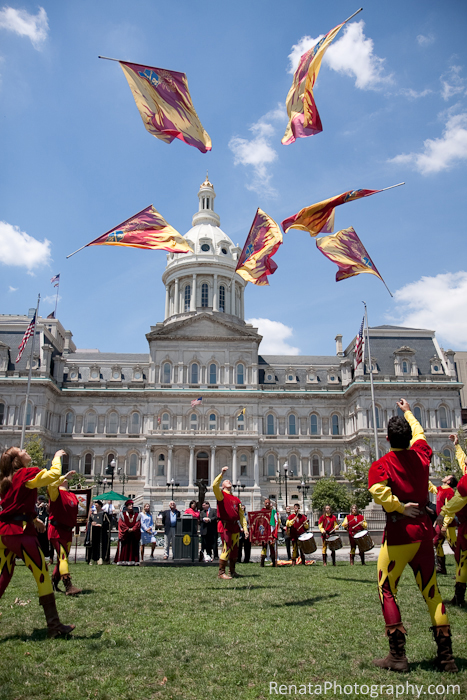 For those that know me know I have a bit of a love affair with Italy.  One thing I've always wanted to see is the flag throwing demonstrations of medieval days gone by.  
Lucky for me, one such festival in 'miniatura' came to my town.  Il Mastrogiurato from Lanciano, Italy has been traveling through the Baltimore/DC area and performing this 14th century tradition as part of various Italian festivals over the past weekend.  (Incidentally, Lanciano is also known for its extraordinary Eucharistic miracle.)
I was able to catch a little investiture ceremony and flag throwing display at City Hall in Baltimore yesterday.  Complete with period costumes, colorful flags and drums it was quite a display in spite of the blazing noonday heat. 
Il Mastrogiurato himself, looked like he jumped off the Medici family tree into Modern day Americana, sporting his own camcorder.  He certainly couldn't have looked any more the part.
Here are some images from the event that lasted about half an hour.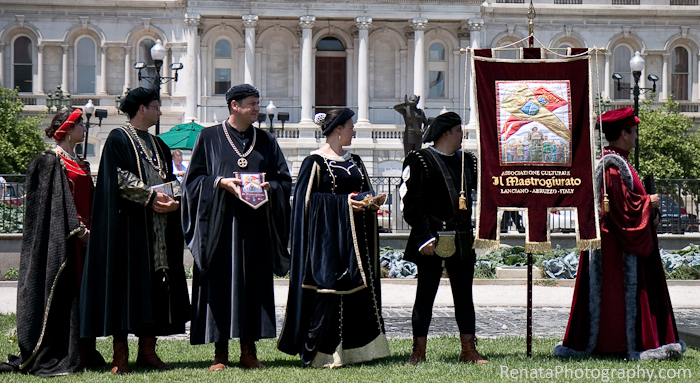 Afterwards, I was about to either melt or pass out and was looking for some cold or frozen treat before driving home.  I was parked on Calvert St and I saw the sign for this inviting tart frozen yogurt  and thought that sounded perfect.  Never been to this place before and unbeknownst to me, they were introducing this new frozen yogurt that very day.    I'm convinced it was just for me.  I got mine with raspberries and chocolate topping. It hit the spot so nicely with its mild tart tang, so it was not too sweet and more satisfying on a hot day.   The owner, Bhavin Patel at Roly Poly, was super friendly, so I have to give him a shout out.  Great day to unveil your new menu item 🙂