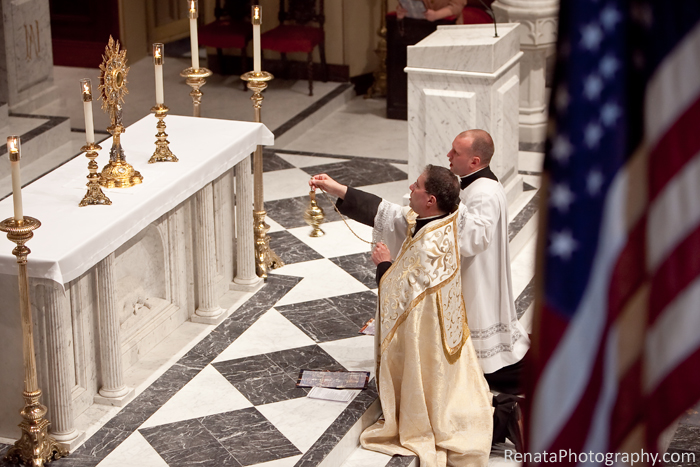 Last Saturday night on November 27, while much of the country was still recovering from their Thanksgiving celebrations, St Mary's in Old Town Alexandria,VA took up the Holy Father's call from last June to begin the new liturgical year by holding a unprecedented worldwide prayer vigil for all nascent (newly developing) human life. 
St Mary's held their vigil, like the Pope's in Rome, to coincide with first vespers of the First Sunday of Advent, while other parishes who participated may have scheduled it at other times during the weekend.  U.S. Conference of Catholic Bishops provided various detailed and complete program options for parishes to implement.
Here are some images of the beautiful and prayerful evening at St Mary's that include vespers, adoration, benediction and a rosary.  One of the prayer meditations I'm including here was from a quote by John Paul II.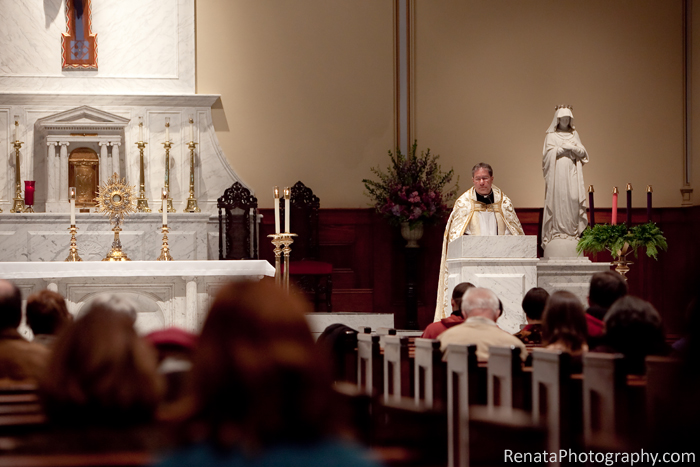 Prayer of Pope John Paul II
 O Mary, bright dawn of the new world,
Mother of the living,
to you do we entrust the cause of life
Look down, O Mother,
upon the vast numbers
of babies not allowed to be born,
of the poor whose lives are made difficult,
of men and women
who are victims of brutal violence,
of the elderly and the sick killed
by indifference or out of misguided mercy.
Grant that all who believe in your Son
may proclaim the Gospel of life
with honesty and love
to the people of our time.
Obtain for them the grace
to accept that Gospel
as a gift ever new,
the joy of celebrating it with gratitude
throughout their lives
and the courage to bear witness to it
resolutely, in order to build,
together with all people of good will,
the civilization of truth and love,
to the praise and glory of God,
the Creator and lover of life.
– Evangelium Vitae, 105



Pope Benedict in his homily at the vigil also quoted Pope John Paul the Great's appeal to "respect, protect, love and serve life, every human life! Only in this direction will you find justice, development, true freedom, peace and happiness!"(Encyclical Evangelium vitae, 5)."
Even though I was asked to photograph the event, thus being "on duty," I stopped at various moments and entered into the beautiful and rich meditations, as well as the challenging prayers of supplication.  I found it a welcome relief to come in from the cold night for adoration, on the eve of a new liturgical year to pray for the protection of life.  
It was also bittersweet for me because I'd wished there were more people in attendance.  In a matter of weeks, churches will be filled to overflowing on Christmas Day.  I always wish that the same enthusiasm and dedication would be present to pray for the unborn.  Welcoming life seems to still be such a problem.  There was no room at the inn for the Christ Child who was about to be born.  Can there still be no room for so many unborn babies?  We need much prayer, fasting and action to help mothers and fathers of today find a way to welcome their children into the world, even if we can only provide a stable.