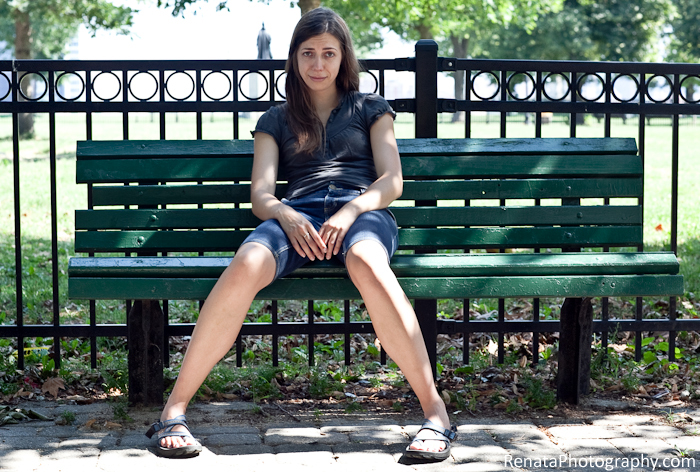 Sometimes dead on is just not dead on.  (Btw, let's hear it for the return of our lovely model Margaret…Yay!) 
This one's real easy.  When framing a subject look at the lines and seek out some perspective opportunities.  Often the background offers lots of possibilities (the ever so popular and slightly overused photos on railroad tracks come to mind).  Lines fading into the distance creates the illusion of endless depth in a composition.  You don't always need to look for train tracks, plus they're not too safe in my option, but you can usually find receding lines within your frame especially when photographing outdoors if you just position yourself and your subject correctly.  A tree line, brick wall, and even the very chair you might be sitting on, could be far more interesting if just photographed from a side angle as we see here sportingly demonstrated by Margaret.  
So here's your tip:
Next time before clicking the shutter button, walk around your subject and study them from all sides in relation to the background.  You might be surprised to find some great depth and perspective in what might have otherwise been a very flat composition.