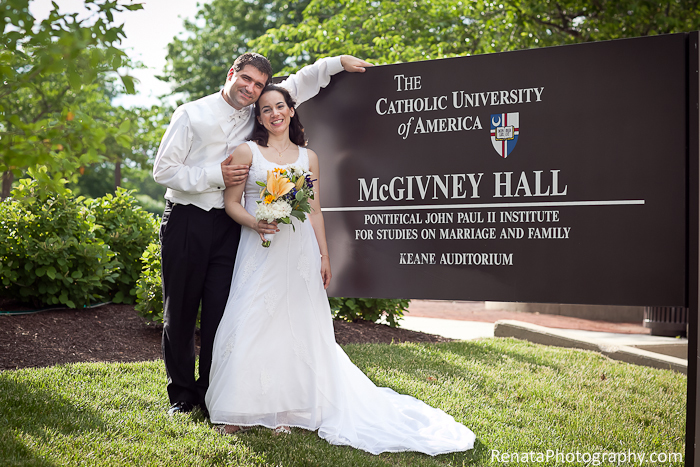 You could say that Dan and Bethany took their studies at the
John Paul II Institute on Marriage and Family
very seriously and quite literally -graduating with their Mr. and Mrs. degrees. 😉   So darn cute, too, was that the one "must have" wedding shot I had to get of them was in front of the Institute's sign.  There's something about this couple, that is so sincere about diving deep into the authentic mystery and beauty of marriage, that leaves you inspired and hopeful.  I'm sure
Blessed JPII
is sending them plenty of graces and warm smiles.   
 
Their wedding was very sweet and simple, a real community event, with lots of joyful family and friends from near and far pitching in to pull the wedding together, then happily dancing the night away.  The bride wore her mother's wedding dress from the late 70's, (I always think that's just so neat to be able to wear your mother's dress!), with a few alterations to make it her own.  I can only imagine what that must be like to see your daughter wearing your wedding dress, so intense and tender at the same time.  
Here are some of my favorite image highlights from their day.  Enjoy!