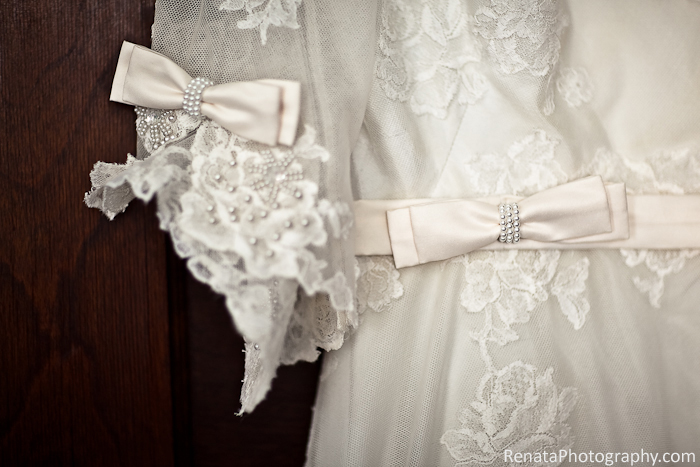 Not a whole lot about February 19 was ordinary.  The day Julia and Michael tied the knot, DC was experiencing severe (and I really mean severe) winds, that had enough force to completely knock over the National Christmas Tree on the White House Ellipse!
Needless to say, the pre-wedding photos outside were scratched for mercy's sake on all involved.  Luckily for us, St Joseph's was free before the wedding for some portraits.   And what a gorgeous church!  We all could have been forgiven for thinking we were in heaven looking up at that intense blue ceiling and rainbow of colors streaming in through the stained glass windows.   Just love that gothic style!
Julia got ready, very conveniently, next door at Madonna House.   She wore a stunning, re-tailored vintage 1960's wedding gown worn by her mother.  It was quite a moving sight to see her mother button her up.  The charm of that dress and how it elegantly flowed on the dance floor was simply delightful.  The phrase, "they just don't make them like that any more" truly applies here.
Forgot to count in the end how many priests there were dotted all around the altar.  Perhaps I was a bit distracted by the presence of the Archbishop of Washington, Cardinal Wuerl.  I mean, how many couples have a cardinal at their wedding?  Not to mention that he personally delivered an Apostolic Blessing on their marriage along with rosaries blessed by the Pope.  Not too shabby!
When the very reverent and beautiful afternoon Nuptial Mass was over, the couple drove off in their unmistakable "big yellow truck" for a few quick photos on the grounds of the Franciscan Monastery before the reception.  The sun was setting for the night, and while the light was pretty, the wind chill was not.  But it was a perfect time for the bride to put on yet another vintage piece, her maternal grandmother's wool cape.   She looked beautiful. With Michael in his topcoat, dancing with and dipping his bride, you could easily think this couple stepped out of an era long gone by.
A true "band of friends" played great tunes after dinner that everyone could swing to.  Julia and Michael had their guests in awe of their super classy dancing and spinning, complete with a charming curtsy by the bride after each dance to her beloved new husband.
And all those pennies…?  Well of course there's a story there too.  Julia collects pennies, you could say, religiously.  While dating, Michael would find himself dropping pennies just so she could find them and make her day.  [How sweet is that?!]   Pennies were also part of a path that led to a ring, and a question, followed by a big, Yes!  So it was only fitting to share the experience of finding pennies scattered all over the guest's tables at the reception.  It was a lovely way to share in the spirit of finding the small blessings that add up in everyday life.
This was certainly an extra ordinary wedding day, for a delightfully down to earth couple.
Cheers to the newlyweds!