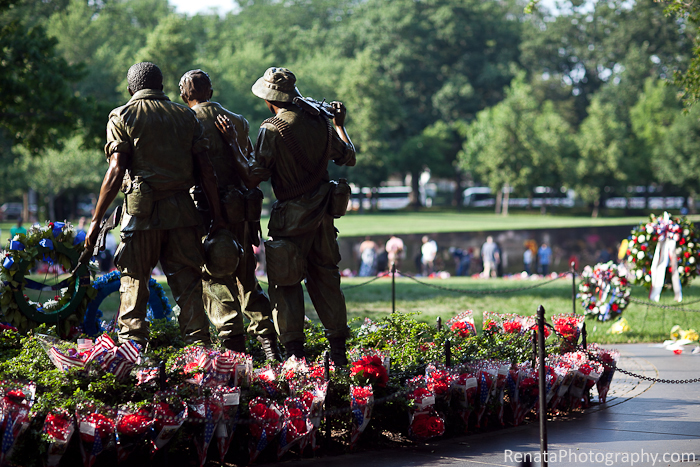 Memorial Day Weekend 2011 has come and gone and it was another hot one!  A little more low key for me this year, but I still managed to snap a few photo highlights that I'd like to share.  I always find the events in DC to be quite sobering and an excellent reminder of all the sacrifices made for this country. 
The Rolling Thunder riders really make some noise as they circle around the Mall representing all the prisoners of war (POW) and those still missing in action (MIA).


The Lincoln Memorial reflecting pool is under some serious renovation.  Plans are to repair the previous leaks and connect it to the Tidal Basin nearby via underground pipes, in order to have fresh water circulating through.  So my special spot for the fireworks on the 4th is now inside the fence line.  🙁  Will need to relocate this year and probably next, given how long this is going to take to rebuild.


Always great to see Gary Sinise (Lt. Dan from Forrest Gump) still supporting and bringing attention to the wounded warriors. This year he road with the Purple Heart recipients in the parade.  It's just so heartbreaking to see these guys with their missing limbs, knowing their sacrifice was for me.


In case you can't recognize these folks, that's George and Martha Washington visiting from Mount Vernon. 😉


I always like to stop by the Wall, the Vietnam Memorial, and take some time to read the names and tributes.  That's an Australian Army hat right next to a US flag, -particularly moving for me.




Walking back to my car I saw a boy having loads of fun just feeding the ducks.  It was a great closing reminder of how all those costly sacrifices by our service men and women, and their families, were made so that we all can enjoy the simplest of life's pleasures.  Let us always be grateful and never forget.


Some more of my images from last year's Memorial Day weekend can be found here and here.