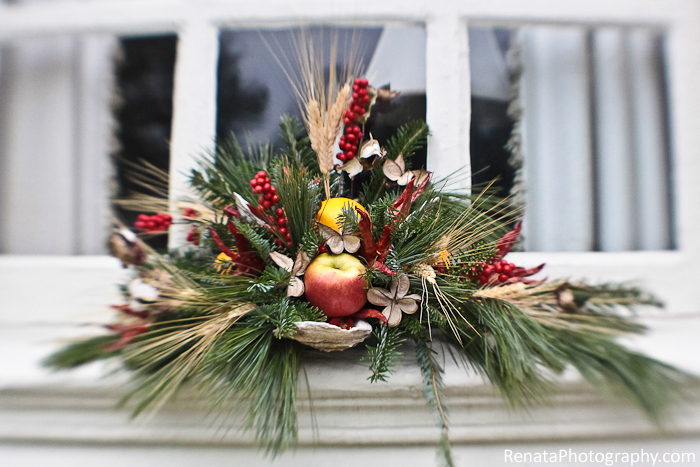 As Christmastide comes to a close with the celebration of Epiphany, I can't help but notice there are very few signs of Christmas left out there in the world.  Most of my neighbors have already taken down their outdoor lights and decorations and there's this sad, thrown out tree that's been rolling around my street all week because neither the trash or recycling crews have wanted to pick it up yet.  (I've been tempted to go out and rescue it myself and give it a sort of "resurrection", but there really is no room left at my inn for any extra stuff…) 
Even though the word "Christmas" itself is disappearing, along with it, is going the time it's suppose to be celebrated (from December 25 to the Baptism of Our Lord on the first Sunday following Epiphany on January 6, and traditionally for a full 40 days until February 2 on the Feast of the Presentation, also known as Candlemas, but more on that later…).  It's still somewhat of a comfort to me that for those who are still faithful to history, you can still see "Christmas" alive and well at certain historical sites.  My local favorite is Mount Vernon, Virginia, home of George and Martha Washington.  They keep Christmas themed displays up through to Epiphany, the 6th of January, (which incidentally is George and Martha's wedding anniversary, for a fun fact you may not have known).
I just couldn't get enough of Aladdin, the camel; he was so cuddly and friendly!
Christmas decorations were a little different in colonial times. The practice of decorating trees came a little later to the US, but fancy garlands and wreathes were all the rage.  This year I heard about the Grand Illumination in Colonial Williamsburg that kicks off the holiday season on the first weekend of December.  The "illuminations" are what they called fireworks back then, and being a pyrotechnics junkie that I am, I simply had to go!




I love Colonial Williamsburg anytime of year, but it was certainly extra special all dressed up for Christmas.  What I discovered to my great delight are these beautiful wreathes and garlands that decorated every home and doorway.  Made from dried or fresh fruit, dried flowers, and evergreens, they looked simply scrumptious!  I couldn't get enough of them and was so excited to add these new "old" finds to my decorating ideas.  I particularly love the pineapple theme, a symbol for hospitality that was popular then.








Christmas wouldn't be complete for me without a visit to the National Christmas Tree surrounded by 50 smaller trees representing each state.  Here's the new and tiny National Christmas Tree, (the old one literally blew over in a bad wind storm last February).  Must say, never been a fan of how they drape the lights…


If you've never been the Basilica of the National Shrine of the Immaculate Conception for Christmas try and go sometime.  Especially when the main church lights are off, the glow and reflections of light from the giant trees are just beautiful.


Back to celebrating Christmas for 40 days… along with the biblical significance of 40 days in both the Old and New Testaments, for both preparation and celebration, prior to the reform of the General Roman Missal in the 60's the Church "kept Christmas"  from December 25 – February 2 with January 6 starting off an informal season of "Epiphany" celebrating the manifestation of Christ to the world.  One way The Great and Blessed JPII helped bring this tradition back, of celebrating for 40 days, was to introduce and keep a larger than life size Nativity and Christmas Tree up in St. Peter's square in Rome to February 2.  A tradition that the current pope, Benedict XVI, happily continues and encourages.  To my great delight I've seen that practice also brought back locally as well.  Big shout out to Fr. Kleinmann at St Mary's in Old Town, Alexandria for holding on through to the 2nd as well.  You're my hero! 
Hope you try and "keep Christmas" in some special way as well through February 2.  All my decorations and lights will be up and on, even if I'm the only one and keep getting threatening letters from my association!  Happy Epiphany!  
For some beautiful meditation, here's the Pope's Homily for the Feast of the Magi this year.  And here is a special Epiphany house blessing you can do in your own home.  Enjoy!