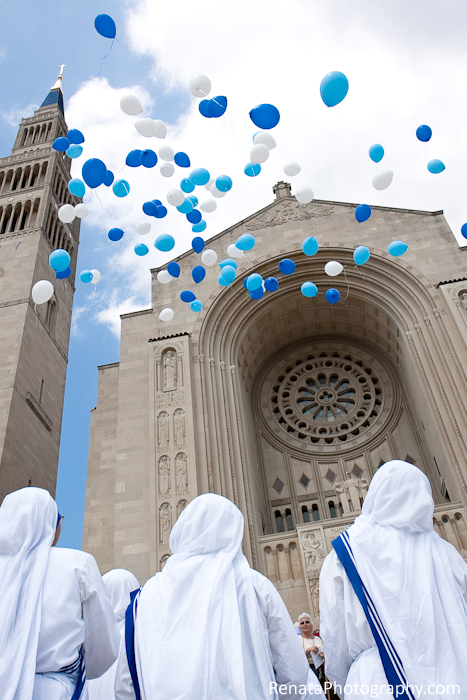 Since the Birth of Mother Teresa! 
A lovely and simple Mass was held today in the upper church of the Basilica of the National Shrine of the Immaculate Conception in honor of Blessed Teresa of Calcutta.   The local sisters from her order, the Missionaries of Charity, were in attendance and sweetly sang one of Mother's meditations after Communion, the refrain being: "All for Jesus, all for Love, to be a channel of God's grace." 
Afterwards, everyone processed out for a "birthday balloon launch" (in her colors of blue and white), that was just delightful.  We each also received a lovely medal and prayer card pack.  I've been around the sisters and interacted with them several times over the years and am always refreshed by their genuine kindness and joy.  They are truly a special gift to our world, all made possible by the birth of a baby girl 100 years ago today who would grow up to listen to God's will. 
In the crypt of the Basilica there is a story board exhibit detailing Mother Teresa's life that is very moving (displayed through Sept. 30th).  I am continually amazed by her level of selflessness and commitment to service for love of Christ and continually shocked at my lack of resemblance to her.  She is truly a saint for our time!  Blessed Teresa, pray for us.
Visit the Mother Teresa of Calcutta Center to follow the centenary celebrations all year long.   Her relics have also been traveling the country, so keep an eye out for them too.
Update:  Prints are now available.