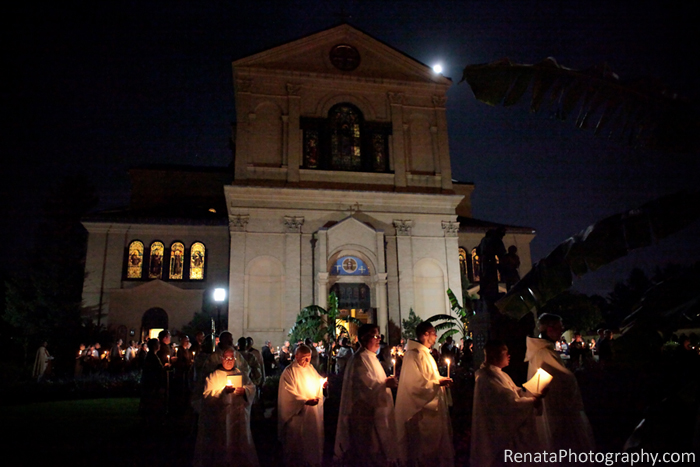 Saint Francis of Assisi is arguably the world's most loved saint.  With his gentle soul, love of God and all the beauty He created, Catholics and non-Catholics have a great respect for him.  To prepare for his feast day, Saint Francis' passing from this world into heaven is marked by a special liturgy called the Tansitus on the eve of his Feast Day of Oct 4.  Last night I attended the local Transitus service at the Franciscan Monastery in Northeast, DC in my usual fashion, but sadly the rain prevented the outdoor candlelight procession from taking place afterwards.
So I'll share my images and reflections from last year's Transitus, which included a Mass, because it happened to be the 800 year anniversary that Francis first received permission from the Pope to form a brotherhood that would live, what eventually became known as, the Franciscan way of life.
One of the first things I experienced while strategically sitting on the steps (so I can be elevated and near an exit) inside the Church of Mount Saint Sepulchre, was that I heard the Great Bells ringing to "call us to prayer".  I immediately ducked out to the courtyard to witness the bells myself and hear them up close (and of course take some photographs).  One of the greatest things I love to hear, but has become all too rare these days, are bells ringing before Mass or liturgical events.  Their traditional purpose is to remind us that in a few moments it will be time to either gather communally for prayer or to prepare oneself to say some private devotion such as the Angelus.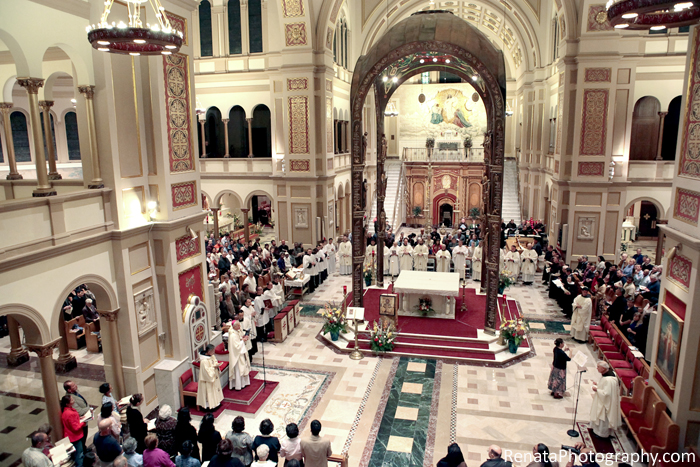 After Mass we all lit the candles that were given to us and followed the cross and relic of St. Francis out in procession, through the garden courtyard, to a replica of the little Church of the Portiuncola in Assisi, that Francis rebuilt and later died nearby it.  The image and sense of golden light from everyone's candle spilling out of the church into the night's darkness was quite breathtaking, soothing and very peaceful.  Throw in the aroma of incense, soft chanting of "Adoramus Te Christe" all under the bright, near full moon of an autumn sky, and I would say it was mystical even.  I was also struck by the diversity of cultural backgrounds, ages and states of life that I saw processing past me -all in reverent unison.  The previously dark courtyard became gradually illuminated by unique individuals, who together were following Francis (his relic) who in turn was following the cross.  The sense of universality of the Church united in common prayer and participating in this public devotion was both profoundly simple and very powerful.




When all the people were finally assembled outside the small Portiuncola, the Archbishop raised the relic of St Francis and gave us the final blessing from within the chapel.  The relic was then placed on the altar that was decorated with flowers and candles, so that we could each go in and venerate it. The large gathering outside waited patiently with their candles lit in hand for almost an hour as each person went in to have their quiet moment with Francis.  Afterwards, there was celebrating at St Francis Hall across the street.






It all felt like it was right out of an experience that Francis himself tried to create for his little town of Greccio one Christmas Eve.  The tradition of the realistic and humble Nativity scene we have come to know and love during the Christmas Season is credited to St Francis because of his desire to help his people really understand, experientially with their senses, what it was like for the Savior to be born in a humble stable and lay in a manger.  Francis had instructed a good man of the town to recreate a "manger scene" complete with an ox and ass and real hay for the Christ Child to lay in.  When Christmas Eve finally came, "Men and women of that neighbourhood prepared with glad hearts, according to their means, candles and torches to light up that night that has lighted up all the days and years with its gleaming star.  At length the saint of God came, and finding all things prepared, he saw it and was glad.  The manger was prepared, the hay had been brought, the ox and ass were led in.  There simplicity was honoured, poverty was exalted, humility was commended, and Greccio was made, as it were, a new Bethlehem.  The night was lighted up like the day, and it delighted men and beasts."    [Thomas of Celano, "First Life of St. Francis" #85]  
I think it is safe to say that in commemorating the passing of St Francis from death to eternal life, "simplicity was honored, poverty was exalted, humility was commended," and Northeast, DC became for a moment a little Assisi.
To see some more images from last year, visit my events site.