It's been a while… I confess. I'm not on top of blogging or social media, which is, in effect the modern arena for letting people know you're still kicking.  The reality is, I'm a bit too busy kicking to let people know I'm still kicking.  And keeping up with the ever changing algorithms of social media outlets like Facebook, I'm usually left so overwhelmed at times, that I just give up for long periods.
I also admit I have an aversion to any added computer or screen time, and social media just seems to suck minutes and hours like a high power vacuum.  I often get very frustrated when trying to sift through the mundane just to find the posts of value.
This is, in all honesty, another reason I don't like to post too much myself.  I try to show you only my best, original content that adds value to your life and not to my internet ranking.
I know the experts say, in order to get seen, I'd need to post often, and everywhere.  But I just can't bring myself to do that, either for my sake or yours.  So much of what I'm about is to get away from the digital and to embrace the tangible in a meaningful and reflective way.  But I understand there is a balance, and I will try to be better at staying publicly connected.
So, even though I may not have had much of a social media presence lately, there's been a lot of activity on the back end, to include the business and web development side of things.  (For those of you who have ever owned a one-man show, or any small business, you know exactly what I'm talking about…there are just too many hats!)
Given my personal circumstances, I've been trying to simplify and reshape my services.  In particular, I'm cutting down on weddings, (since they're booked so far in advance and too hard to plan around when hoping to start a family) and focusing more on some of my first loves, like fine art photography and painting, in particular, portraiture, still lifes, and landscapes.
Soon I will be offering some very unique fine art portrait packages and look forward to sharing more about that with you this fall.   Since I'm not that active on other social media scenes, the best way to stay connected is to subscribe to my blog by entering your email in the box at the top of the page.  (Don't forget to check your spam folder and confirm the link in your email.  And don't worry, I won't share or sell your email!)
As a small sneak peek of one of my latest works that will become part of my future offerings, allow me to introduce one of my of encaustic landscapes…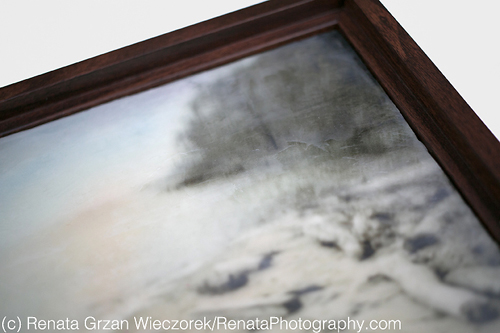 Like?  Stay tuned!