One more post on the Annunciation, can't resist! 
Today I went to the noon Mass at the Basilica of the National Shrine of the Immaculate Conception in Washington, DC because I just had to sing!  It's sad that this day isn't a Holy Day of Obligation, when at one time it was celebrated as the New Year.  No one quite did New Year's on the 25th of March like Renaissance Florence, complete with processions, a reenactment of the Annunciation with a descending dove and pyrotechnics.  Ahh the good old days! 
So today I had to settle on a drive into DC for a lovely sung noon Mass, and yes we all genuflected at "by the power of the Holy Spirit, He was born of the Virgin Mary, and became man."  (A practice that is done in the Novus Ordo Mass on the 25th of March and December, although many parishes seem to forget to do it.)   Then I made a little pilgrimage a few blocks over to the Franciscan Monastery that has a to scale replica of the Grotto of the Annunciation in Nazareth, Mary's original home.  If you've never been there, it's really worth a visit, they have many Holy Land replica sites, including the tomb of Christ. 
Here are some pictures of the mosaics of the Annunciation at the Shrine. 
The first is in the Rosary chapels in the upper church around the high altar.  There is not a lot of foot traffic up there on weekdays,  but it was really nice to see they lit the candles on the altar of the Annunciation.  You'll notice they have below the typical scene of the Annunciation with Mary and Gabriel, an image of Moses before the burning bush.  The burning bush not consumed (or harmed) by the flames is a foreshadowing of Mary and her virginity remaining in tact from Christ's conception to his birth.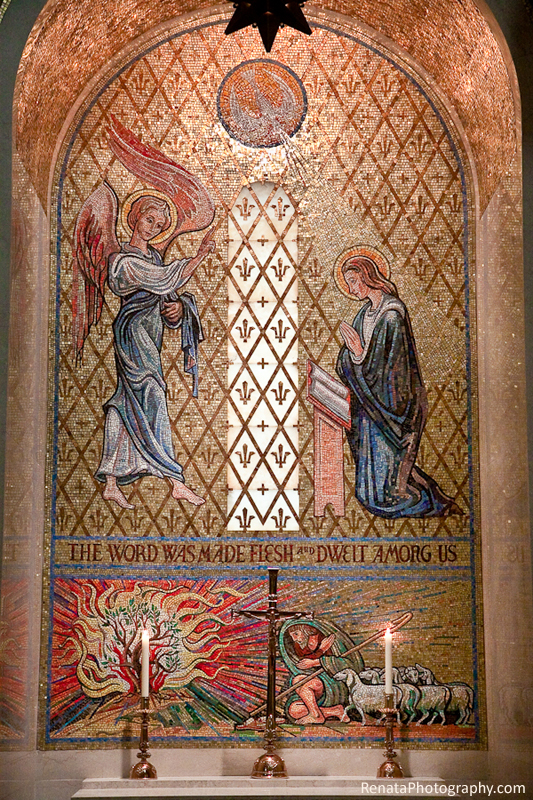 Below is the Shrine's mosaic of the Annunciation in one of the Great Domes. 

This is a replica (in the Franciscan Monastery, DC) of the Grotto of the Annunciation in Nazareth.